Harmonic Balancer

---
The car died last weekend; cranked but wouldn't fire. I had it towed home thinking that I would be able to fix it. She had fuel
pressure, spark, power at the coil, power at the inertia switch and I could here the fuel pump working. Being that I didn't really
have a lot of spare time, I arranged for tow truck to take her to an old friend's shop.

The next day I got the call, catastrophic failure! The bolt that holds the harmonic balancer to the crankshaft broke, so the
harmonic balancer moved forward, which took the signal away from the crank sensor, and the collar for the harmonic balancer
was still pressed onto the crankshaft. My old friend didn't want to go any further with the job, so I had it towed home where
I would determine whether it was worth fixing myself or moving on to another vehicle.

My buddy came over for a few hours with some of his tools, and he got the bolt out in about 10 minutes. The collar was a bit
more difficult, but after about 30 minutes, he had it off.

I've always had a coolant leak from the timing cover, so now is as good a time as any to fix it.





---
Day 1 (Sunday, October 5)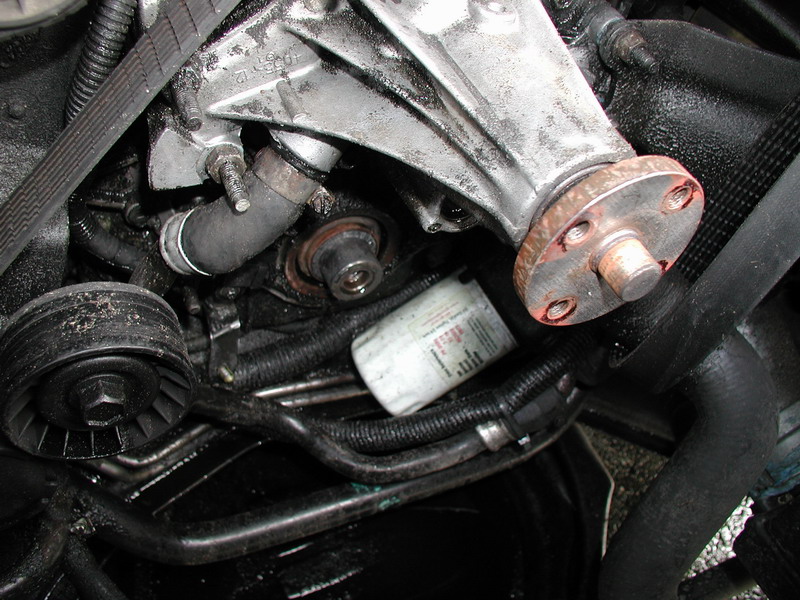 Houston, we have a problem.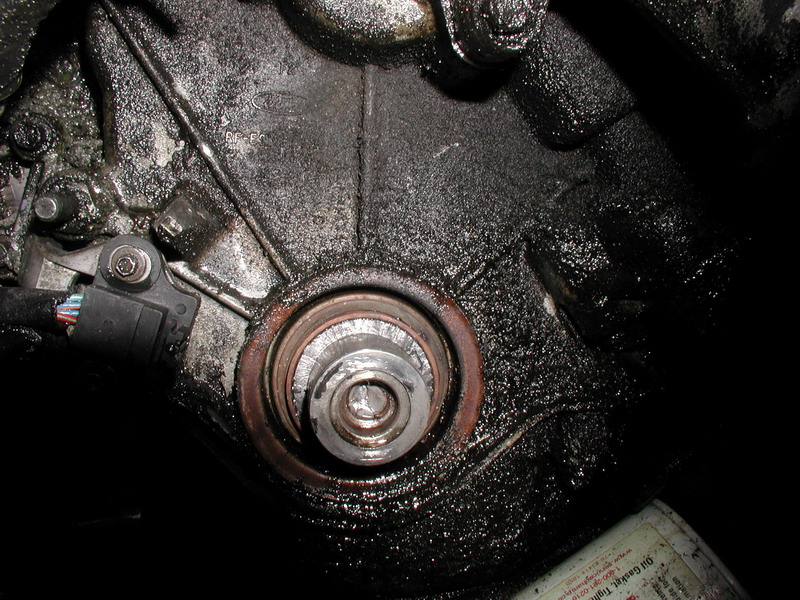 The bolt broke inside the crankshaft. Luckily it came out fairly easily.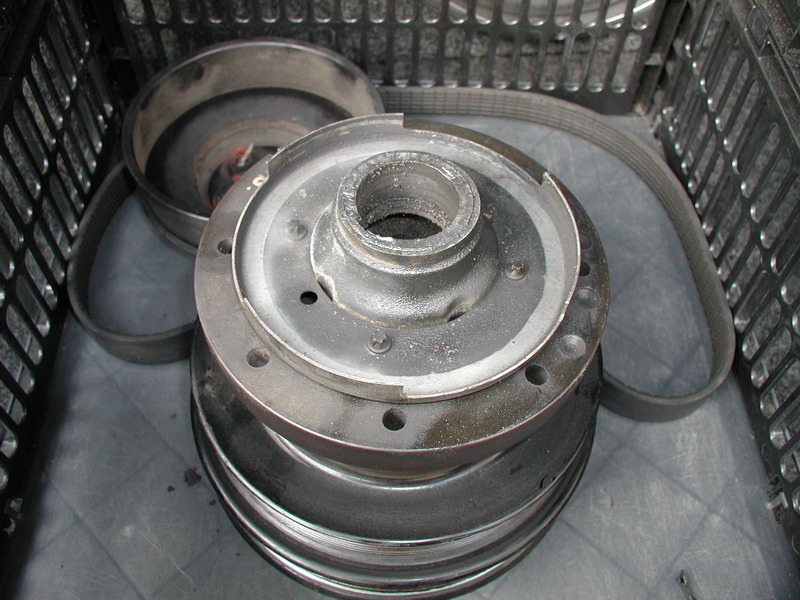 The broken stock harmonic balancer.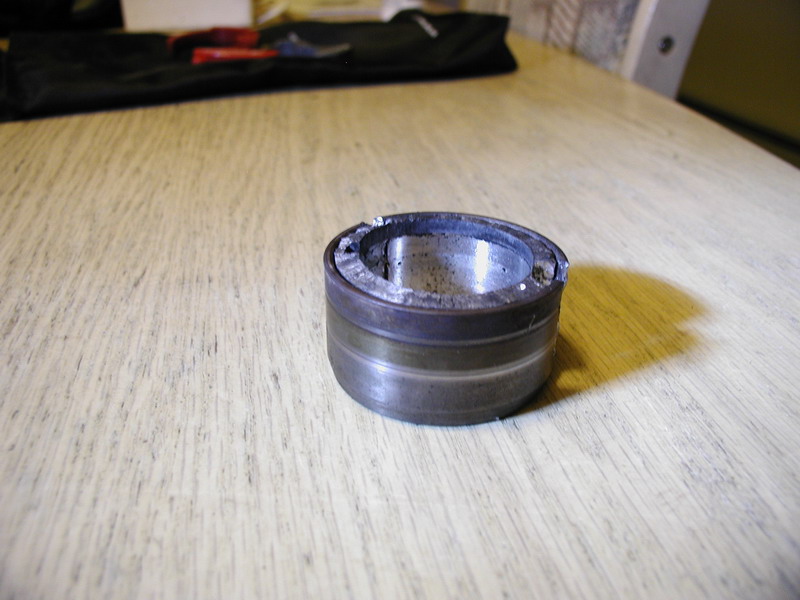 What was left on the crankshaft.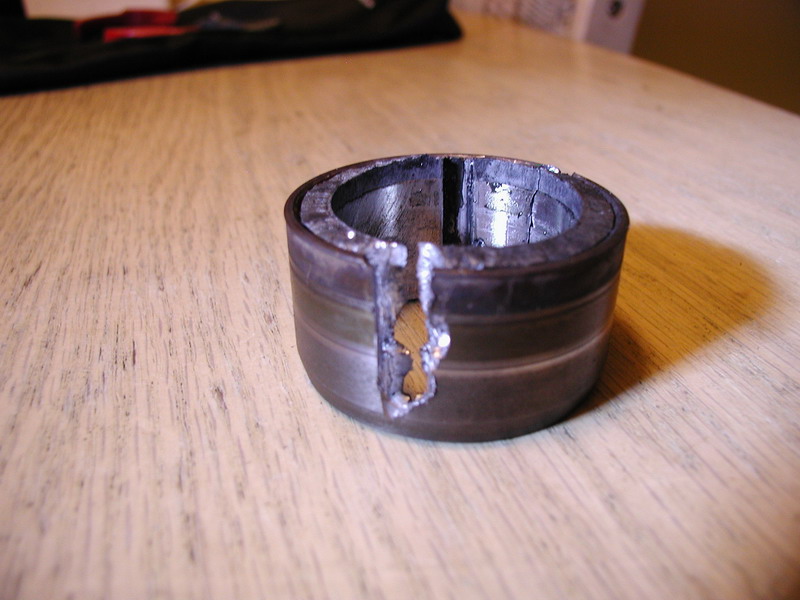 A few strategic drills holes and she came right off.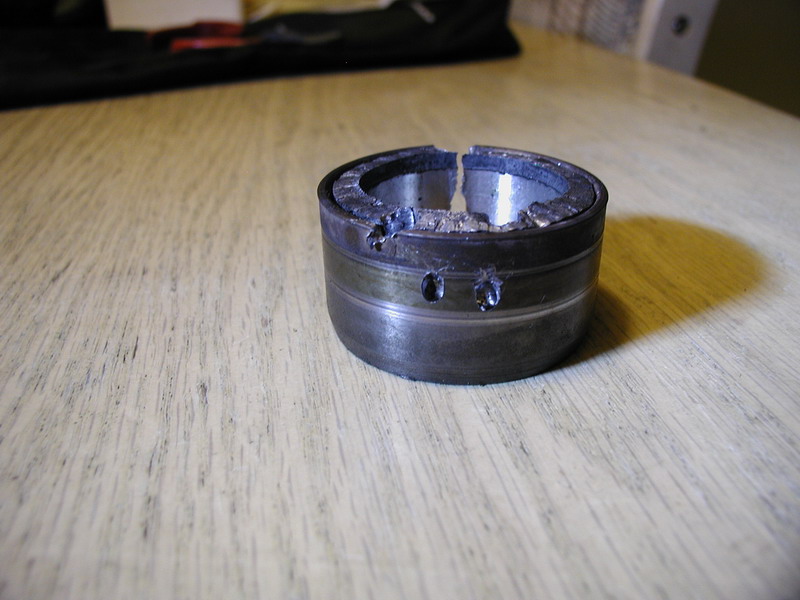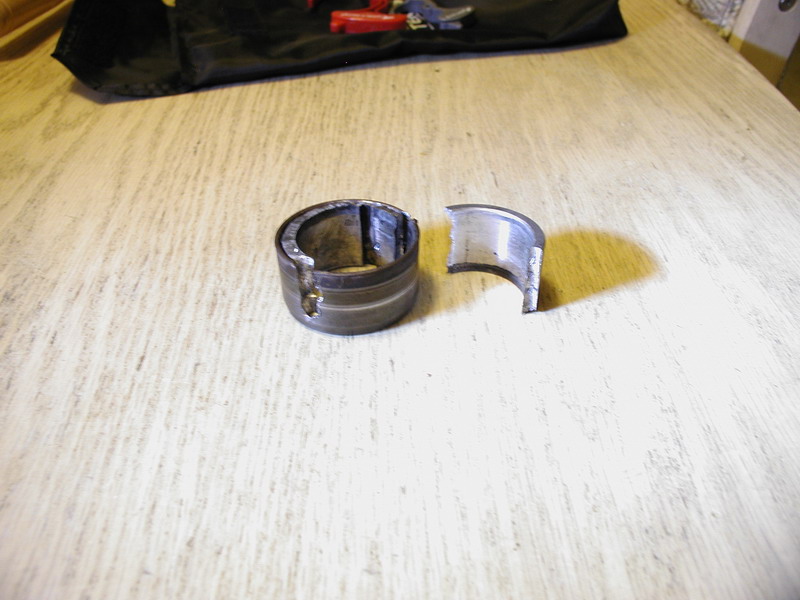 I didn't order any parts just in case the bolt wouldn't come out of the crank, or the crank was damaged. All is well to this point, so
I'll order up my parts tomorrow. I also found my oil leak; the snout on the supercharger is leaking.

Parts will be: BHJ harmonic balancer, cranks sensor, crank seal, snout seal, belts.

I'm sure there will be more by the time I'm done.




---
Day 2 (Saturday, October 11)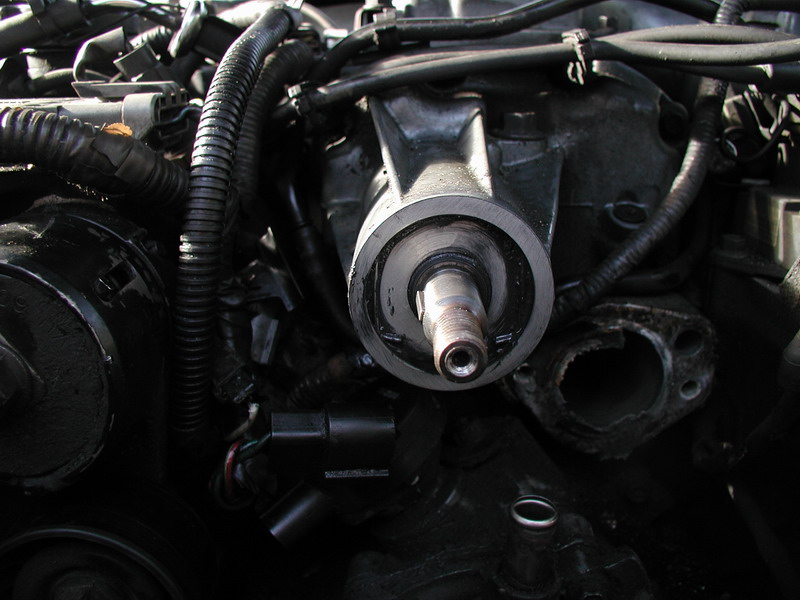 I started with the snout seal.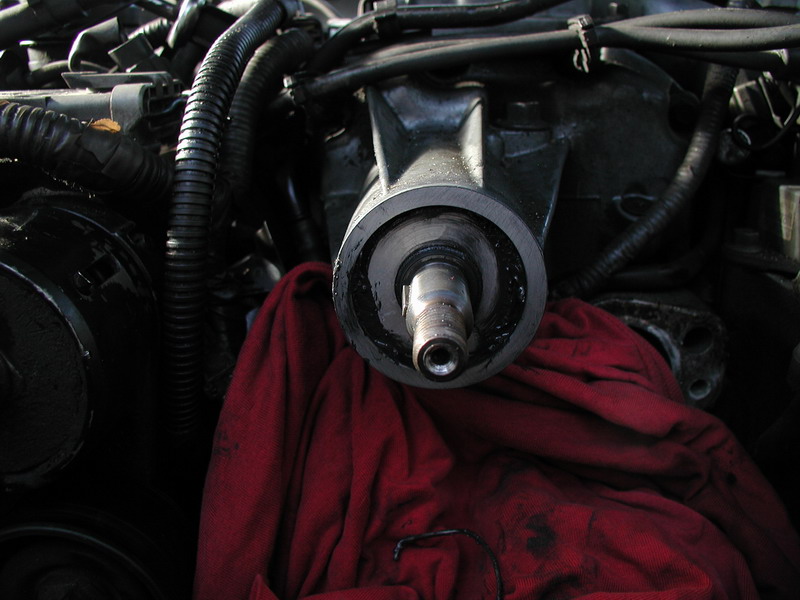 Put a rag under to catch and debrit. Remove any
excess grease, then remove the factory lock ring.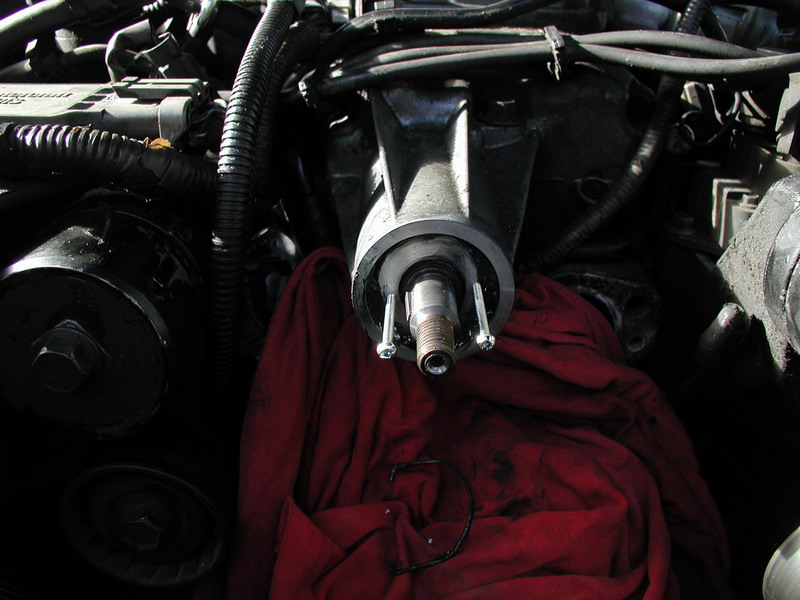 Drill two holes in the old seal (don't drill to deep) and thread two screws. I drilled 1/8 holes and
used 6-32 machine screws. You can use any size screw or bolt that you have laying around.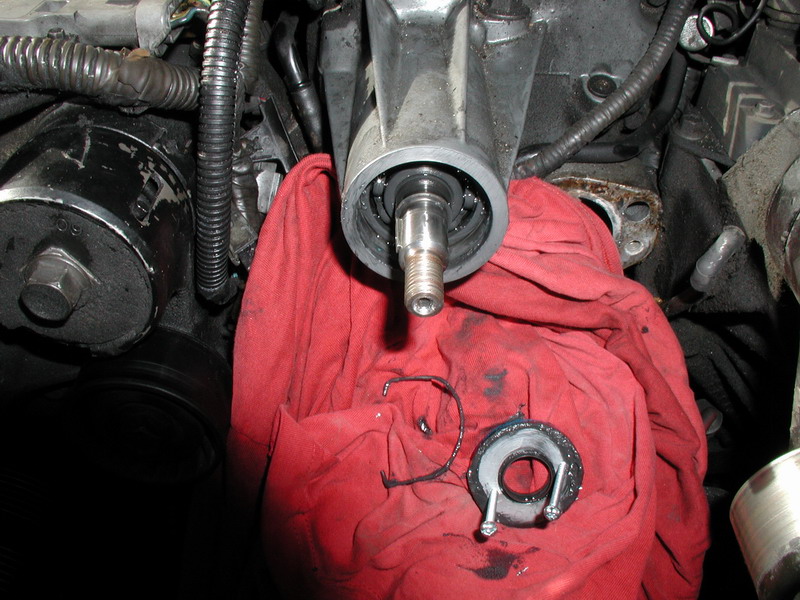 Put pliers on the machine screws and pull the old seal out.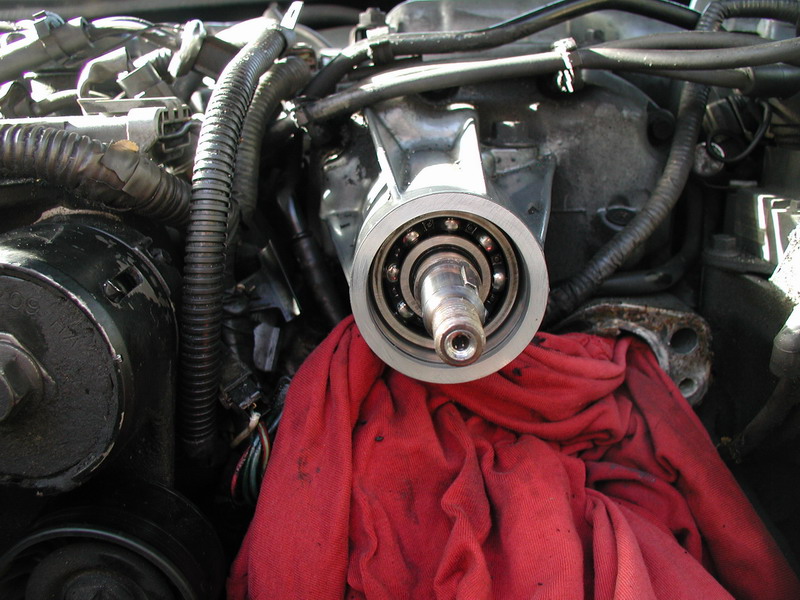 Clean up any grease from the inside of the snout with a q-tip and a rag.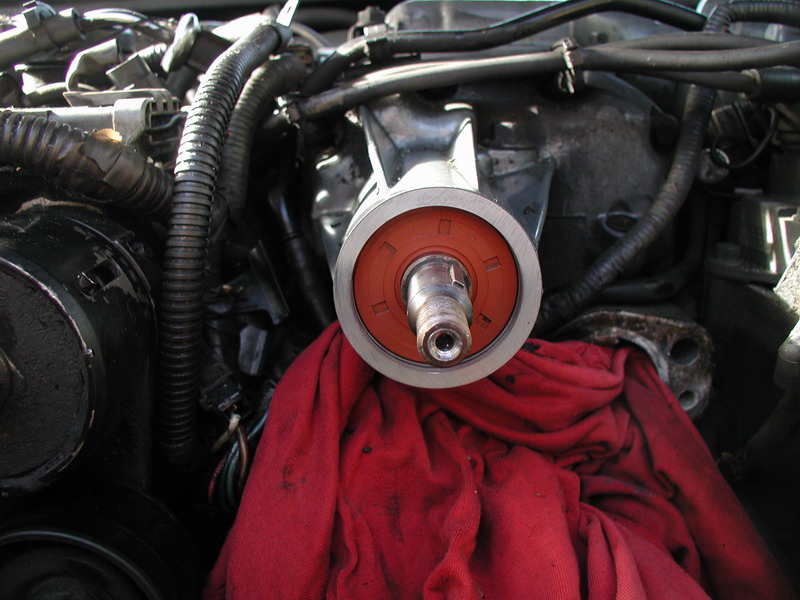 Put a small amount of supercharger fluid on the seal and lightly tap it in until it is seated.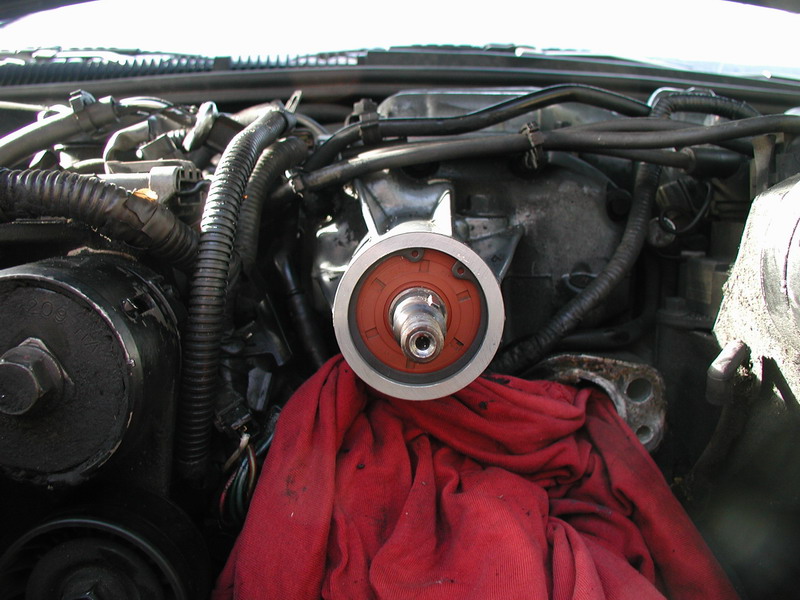 Install a proper snap ring. I used one that was 1 13/16"..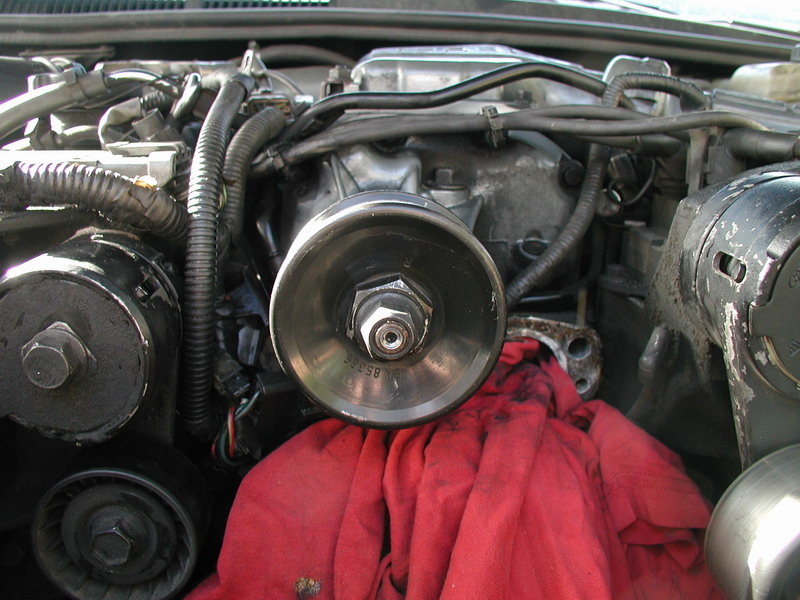 Install the pulley and tighten the nut and you are all done.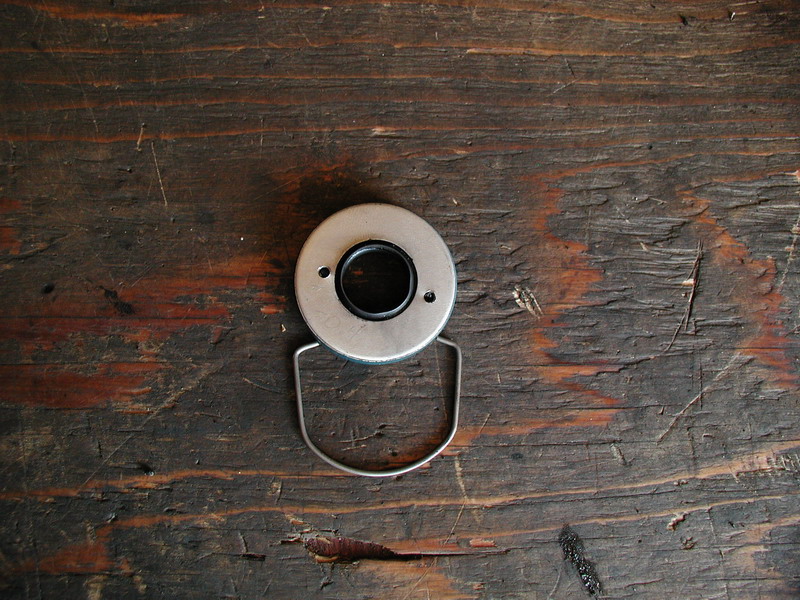 Here are the old seal and retaining ring.



I got the water pump off, along with most of the timing cover bolts. I can't get the cam sensor off as there is a tamper-proof bolt holding
it down, and the clearance between it and the supercharger snout is minimal. I will try and make/modify a tool the take care of this, but
that will have to wait until tomorrow.




---
Day 3 (Sunday, October 12)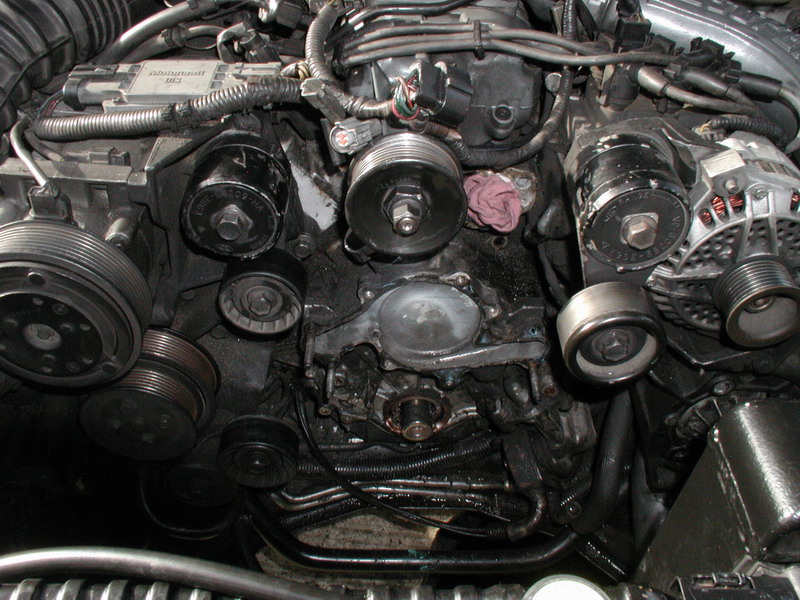 What I have to work with today.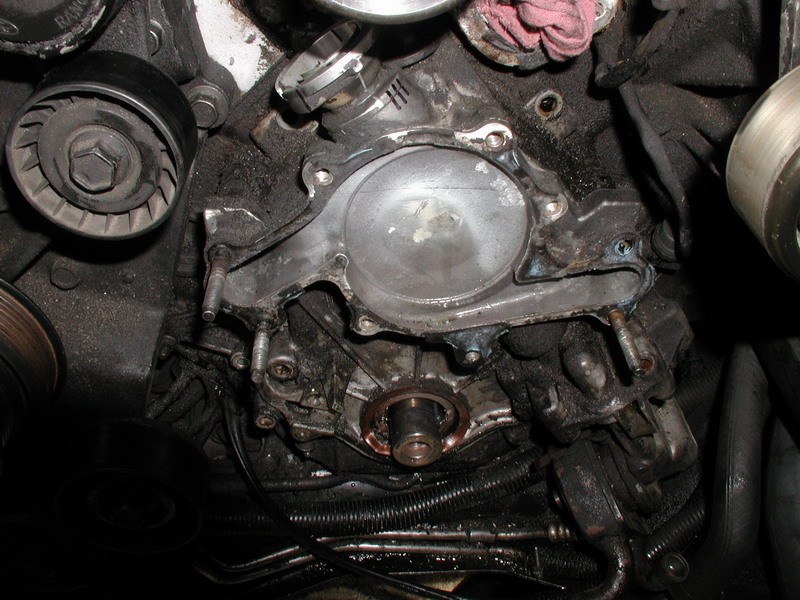 I couldn't get any combination of tools between the snout and the cam sensor to remove the camshaft syncronizer
hold down bolt, so I ended up using a regular T-45 tamper-proof bit and an 8mm combination wrench .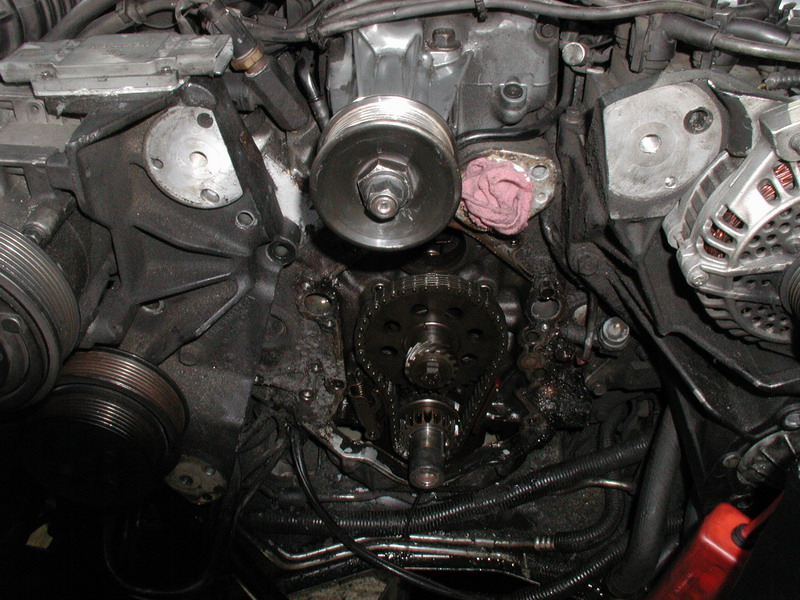 Finally the timing cover came off.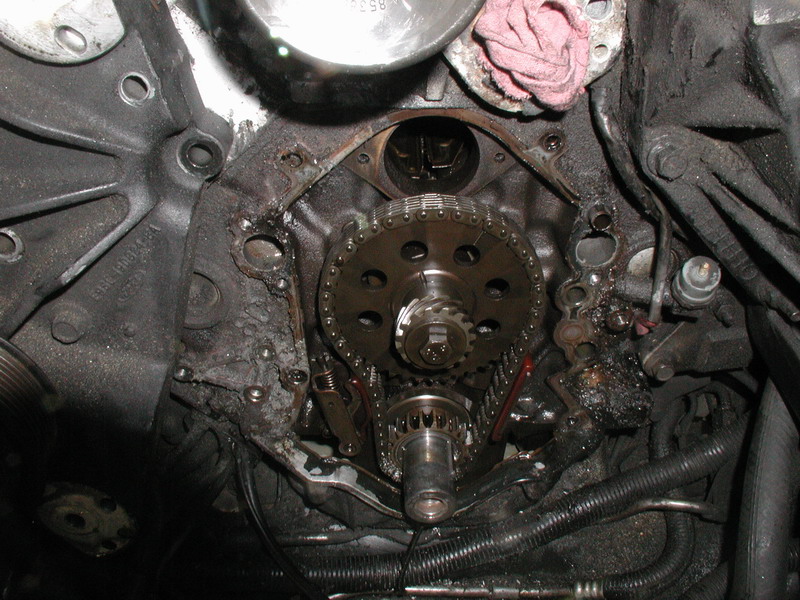 The left side (right side in the picture) seemed to hang up, but I figured it was the silicone
on the oil pan. She cracked free after some delicate prying and pounding.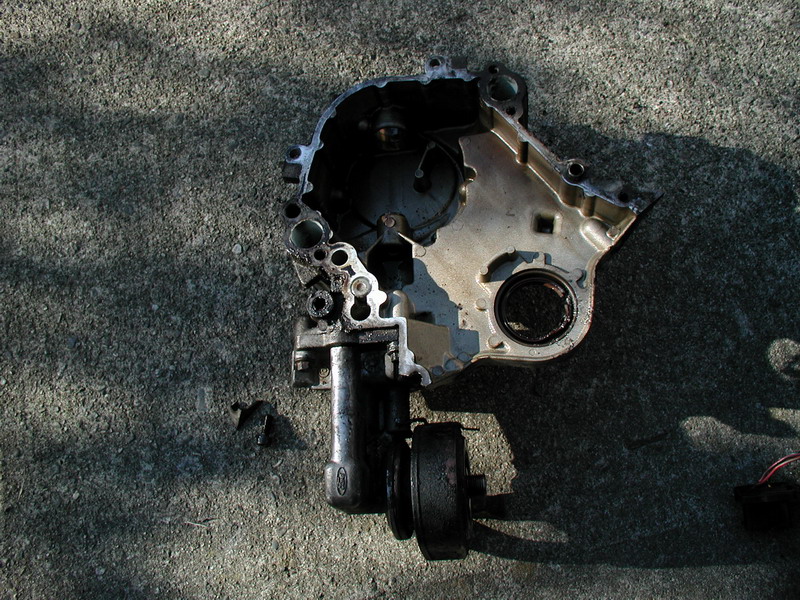 Yup, that was a real "crack" I heard.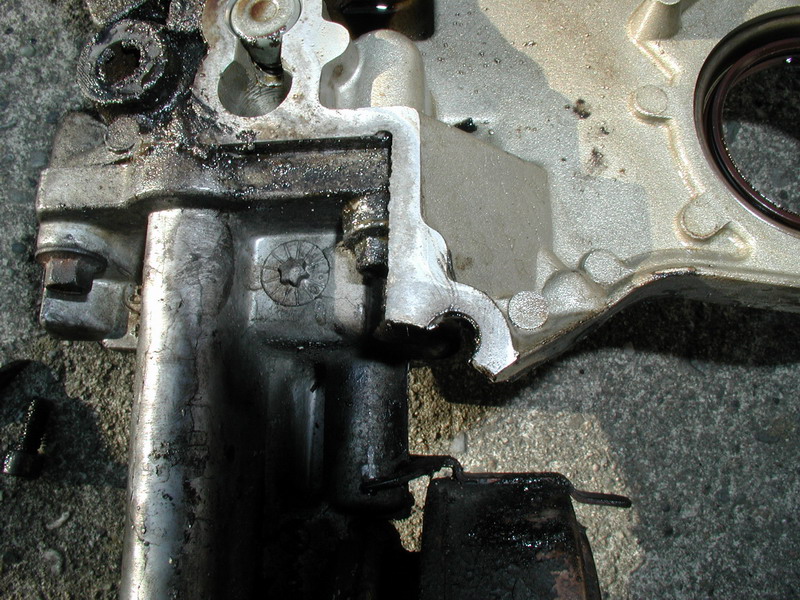 Just took the corner off. I'll see if I can get it welded.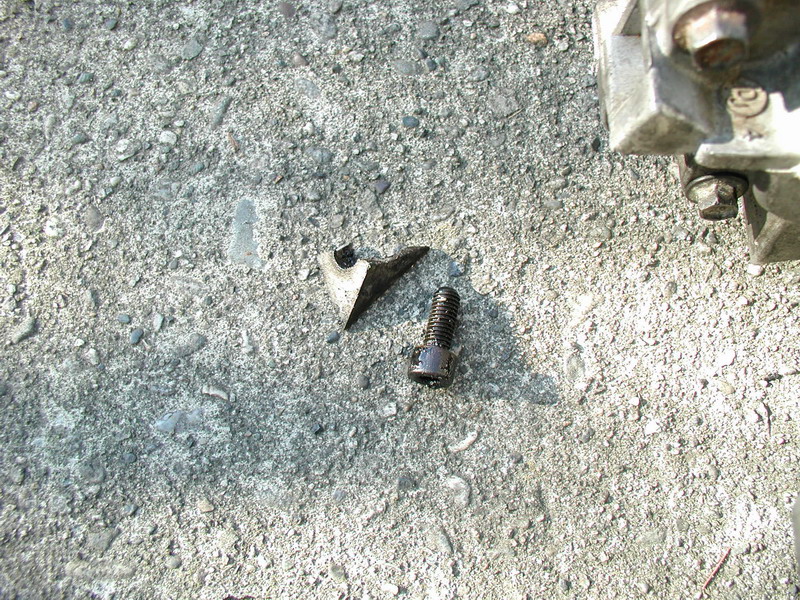 I read about an allen head bolt that was hidden, but couldn't see it. Guess I know for the next time.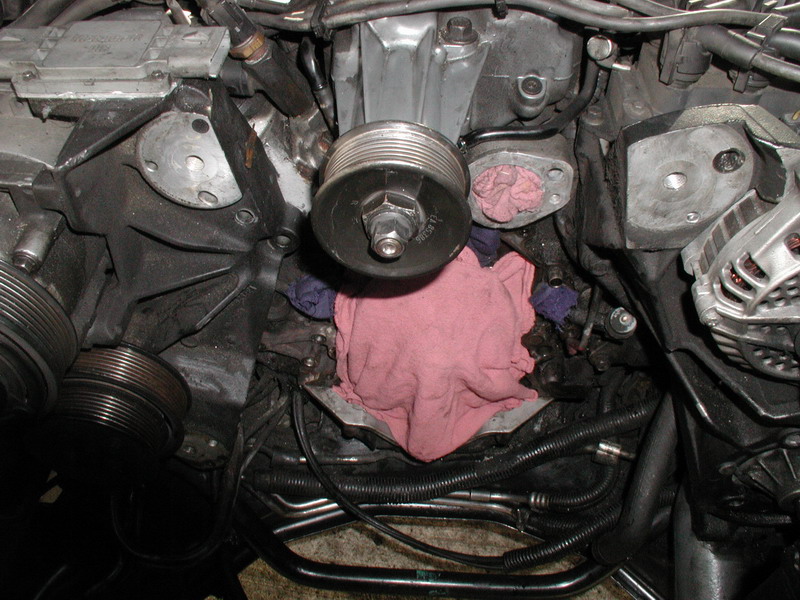 All cleaned up and ready to be put back together, after I do the timing chain and sprockets.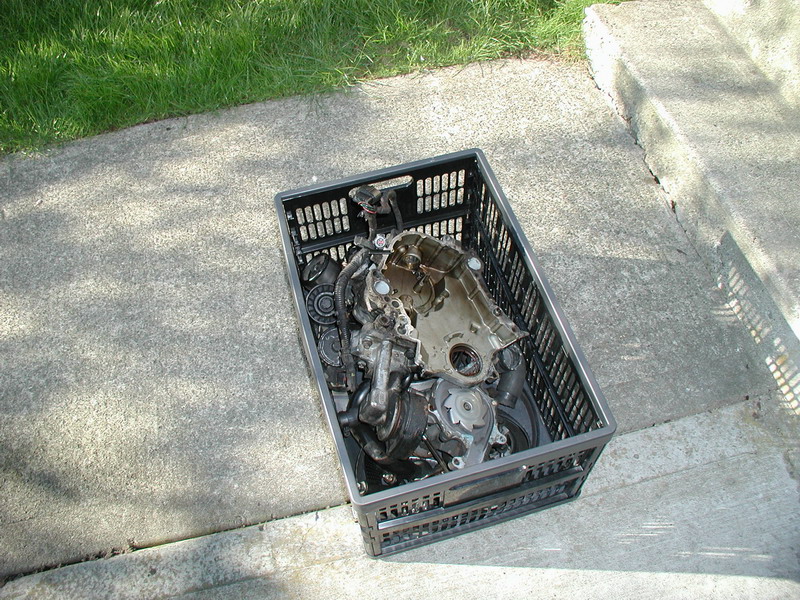 My bin 'o parts.




---
Day 4 (Saturday, October 18)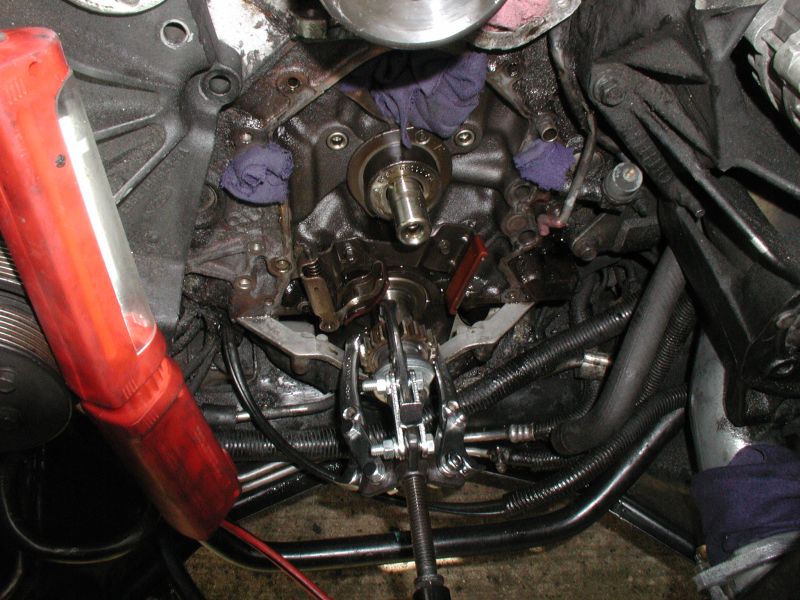 I got the cam gear and chain off, but the crank gear got hung up and needed a puller.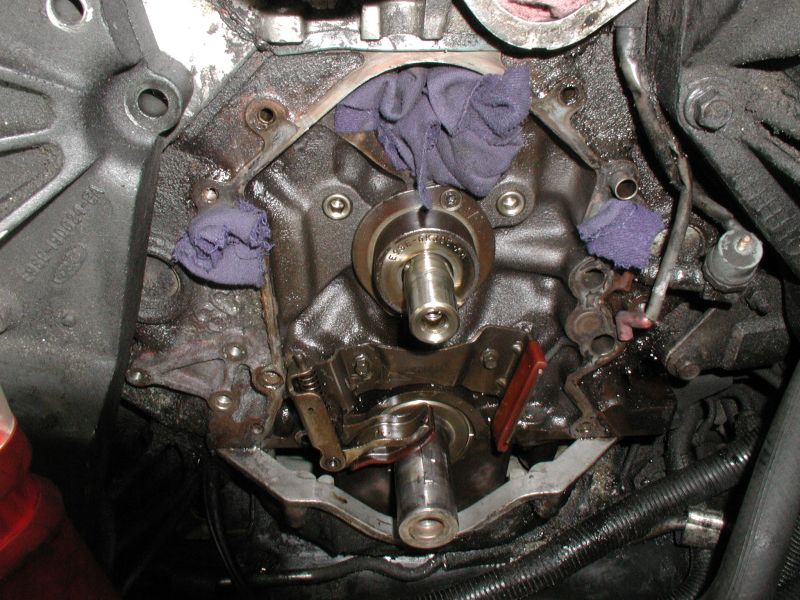 Now to remove the tensioner.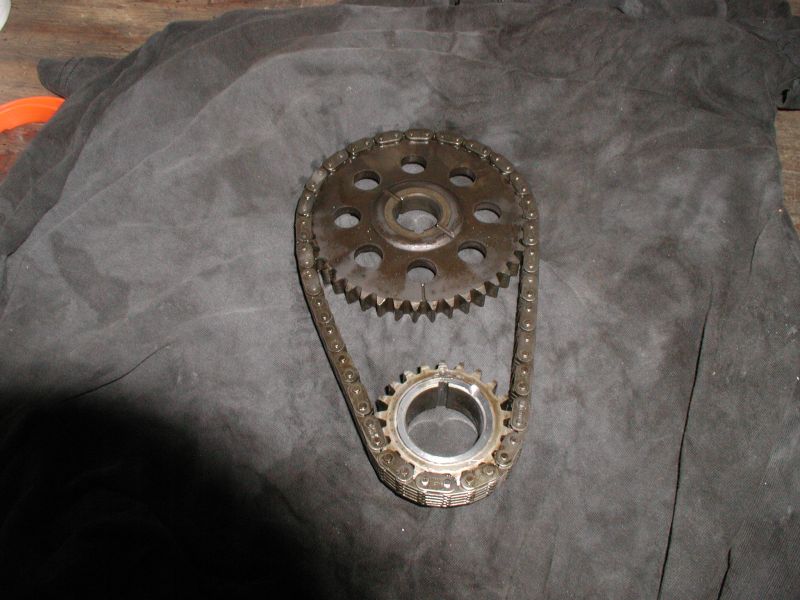 The old timing set,





The crank gear got to cozy with a drill bit when my buddy was trying drill out the seal.



I had to put everything away and head out to get a used timing cover. Thanks again, Sean.

When I got back, I messed with the tensioner for a bit. I couldn't get it to relax enough to clear
the new chain (even the one I grabbed from Sean). I ended up drilling a small hole right below
the original one, which gave me just enough room to clear the chain.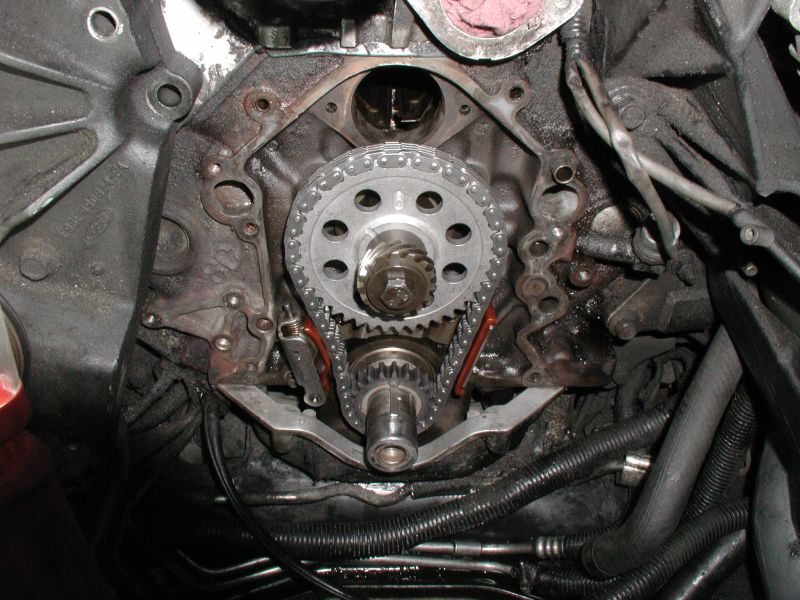 The new timing set installed.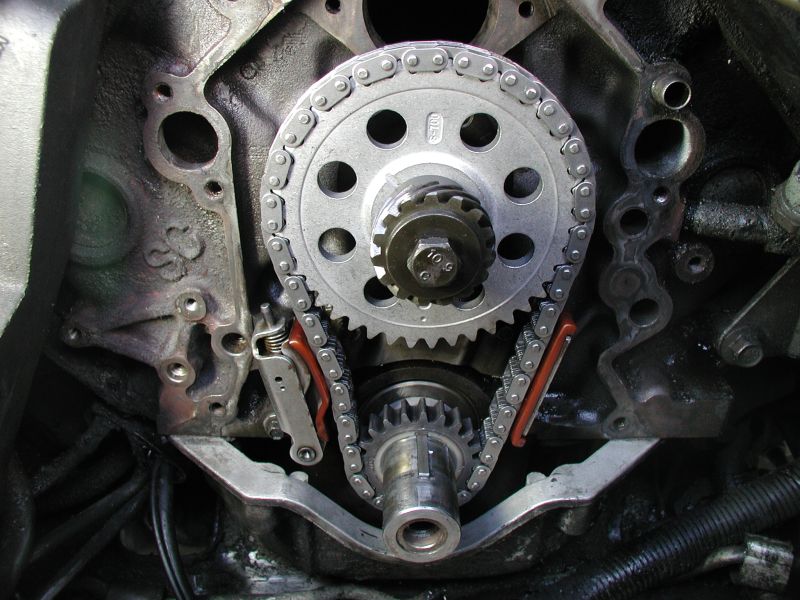 It was getting late, so I spent some time cleaning up the new timing cover. I also had to drill out a broken water
pump bolt, which to some time. I also transferred over the oil pump/filter housing.




---
Day 5 (Sunday, October 19)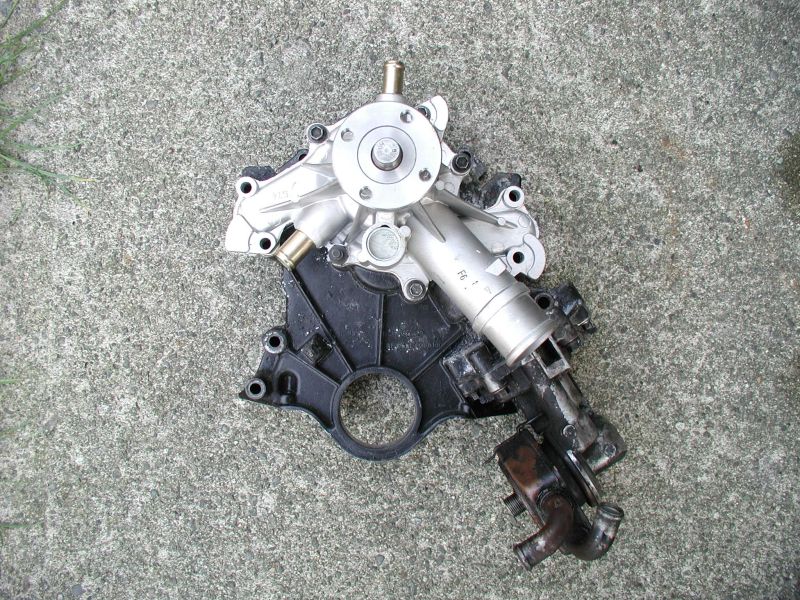 The new timing cover with a brand new water pump mounted.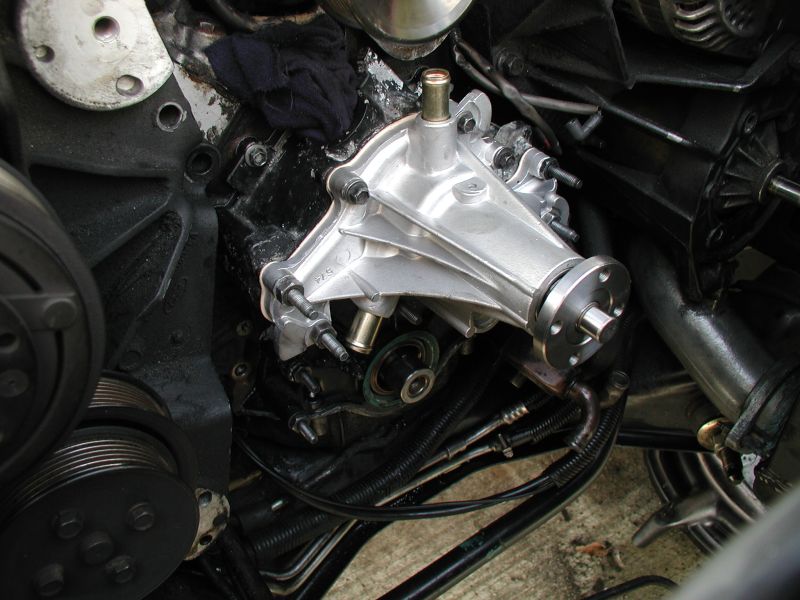 Installed in the vehicle.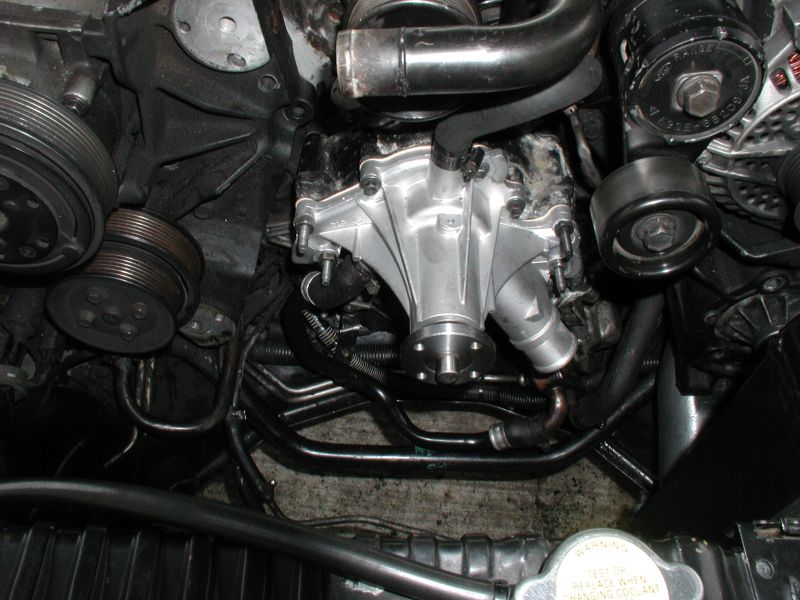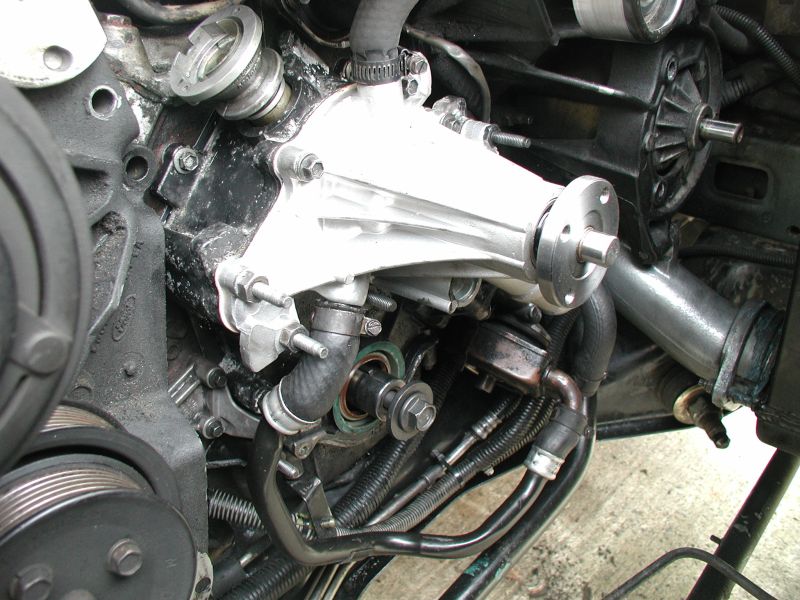 I spent a lot of time cleaning grease and grime off all the parts, so I only got a few of things installed.




---
Day 6 (Wednesday, October 22)



Today was supposed to be warm and sunny, so I booked of early from work so I could try and get the balancer on and see if
she would fire up. After a few hours of running around getting my buddy's balancer installer and grab a few odd's 'n ends, I
made it home and had about an hour and a half of sunlight left. I got the balancer and crank sensor on, thne the cam
synchronizer. Once that was all done, I put on a new oil filter and added some oil. Time to crank her over.....

She flashed right up, but was banging and clanging like a 1960's diesel engine. At first I thought it was the lack of oil pressure,
but when ti didn't go away, I figured that there must be something wrong with the timing. It was now 7:30 pm, dark and cold,
so I buttoned things up and called her a night.



---
Day 7 (Saturday, October 25)



I re-did the timing, fired her up, and she was still banging and clanging. The best part was now oil was leaking out of the oil
pump. This was the final straw for me, as I'd now spent three weekends trying to fix this car, and she was no better than
when I started.
I made a call to a buddy and booked it into his shop.

A week later I had the car back and all was good.




---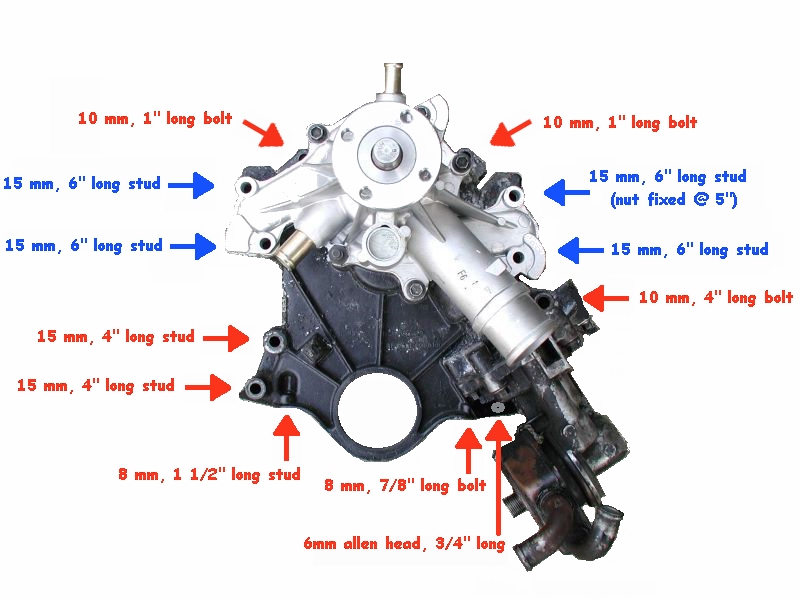 Here is a "cheat-sheet" of all the bolts holding the timing cover to the block.
The 6mm allen head bolt is barely visible, and the one that I forgot to remove.



Parts List



Part

Brand

Part #

Notes

antifreeze

Lordco





belt - alt, ps, ac, wp

Napa

25-080897



belt - jackshaft to crank

Napa

25-070425



belt - jackshaft to supercharger

Napa

25-080897



bolt & washer for harmonic balancer

Super Coupe Performance

n/a



crank seal (front)

FoMoCo

E6DZ-6700-A



crank sensor

Niehoff

FF440H



harmonic balancer

BHJ

?



oil

Shell

5W30



oil filter

Fram

PH3600



RTV silicone (black)

Permatex

59803

80ml

supercharger snout seal

CR

692294

(20x47x7)
supercharger snout snap ring

Dynaline

22901

(1 13/16")
thread sealant

Permatex

56521

50ml

timing cover gasket

FoMoCo

YF2Z-6020-AA



thermostat gasket

Stant

25103



water pump gasket







---
If you have any comments, suggestions, or see any errors, please let me know..... cbradley@telus.net
Last updated on March 4/2009

All contents on this site are property of Chris Bradley. No content on this site may be reproduced without the express permission of Chris Bradley.