On-Board Air
---
I have been using my Saginaw OBA (on-board air) system for almost three years now, and it has gone through some changes. I have changed
the oiler, oil separator, pressure switch, safety valve and a few other bits and pieces. Why? Either the component failed or I wanted the system
to operate differently. Bottom line is it has been a very useable OBA system.
Airing up: with the engine at 1800 rpm, I can air up my 35" tire from 16 psi to 32 psi in 1 minute and 10 seconds.
Airing down: the Klune-V RAD's allow me to deflate from 32 psi to 16 psi in 22 seconds.
I recently installed a York compressor that I've had laying around for years; tire inflation is now 50 seconds with the engine at idle (750 rpm).

All pictures seen on this page are of how my OBA system is currently.

---
Electric or Belt driven Compressor
When planning this system, I was undecided whether to go electric or belt driven. The electric compressor would be much easier to install, but the belt driven compressor would put out much more volume. The deciding factor ended up being that almost every electric compressor out there is intermittent duty; meaning they can only be used for a certain length of time, then they must be turned off so they can cool down. This time is usually around 20-25 minutes run time and 45-60 minutes cool down time. I figure this would be fine for the most part, but what if you need to run the compressor for a longer period of time. The faster electric compressor's like the Oasis Trailhead cost around $600 US, and that is way to much. Also aiding in my decision, I had A/C in the truck and never used it, so I figured I had the compressor all mounted and ready to go, all I had to do was plumb in the rest of the system.
---
The System
An air system using a Sanden compressor should consist of the following components:
intake filter
oiler
compressor
check valve
oil separator
pressure switch
safety (blow off) valve
pressure gauge
tank
switch (on/off)

An air system using a York compressor is the same, except you don'tt need the oiler.


The check valve and tank are optional, but I do recommend them both. All these pieces are connected together with a combination of air hose and brass fittings. The difficult part is where to mount everything, then plumb it all in with the hose and brass fittings. Once you decide on a layout, everthing comes together nicely. One problem most people seem to face is the manifold as nobody a decent one for on-board air systems. A buddy of mine made me one out of a chunk of solid steel; he tapped 8 ports in to it. Although it is a little heavy , it will allow me to mount most of the air components together.
For the electrical portion of the system I cheated a bit. The whole point of this project was to have air to run my new ARB lockers, which come with switches, so I bought the ARB wiring harness to go along with them. The wiring harness easily ties into the rest of the system. I also modified the ARB wiring harness so that the front and rear lockers can work independently. I got this idea from fellow 'wheeler Greg Sue.
---
My OBA system:



I opted for an elaborate set-up. It consists of an intake filter, compressor, check valve, oil separator, dual pressure switch's, safety (blow off) valve,
tank, electric drain solenoid, four pressure gauge's, switches, and coupler's at the front and rear of the vehicle..


Here are a few pictures of how the system looks under-hood: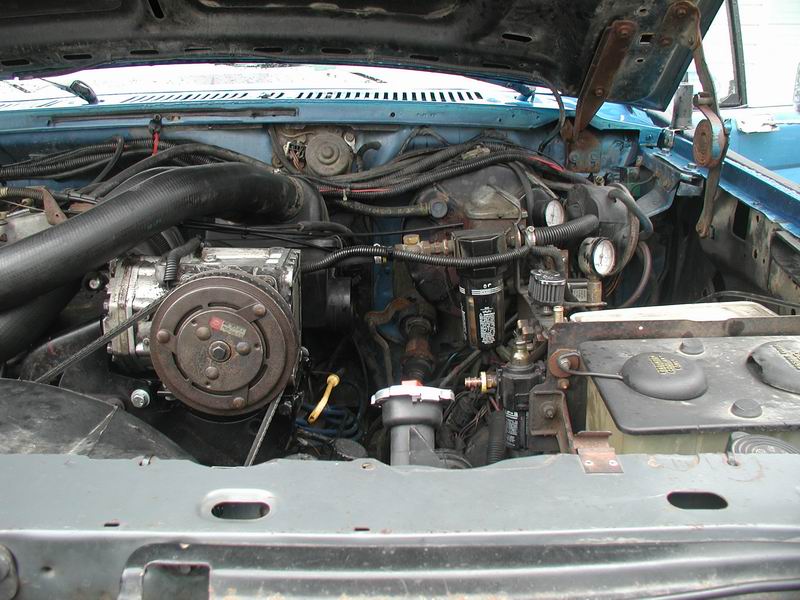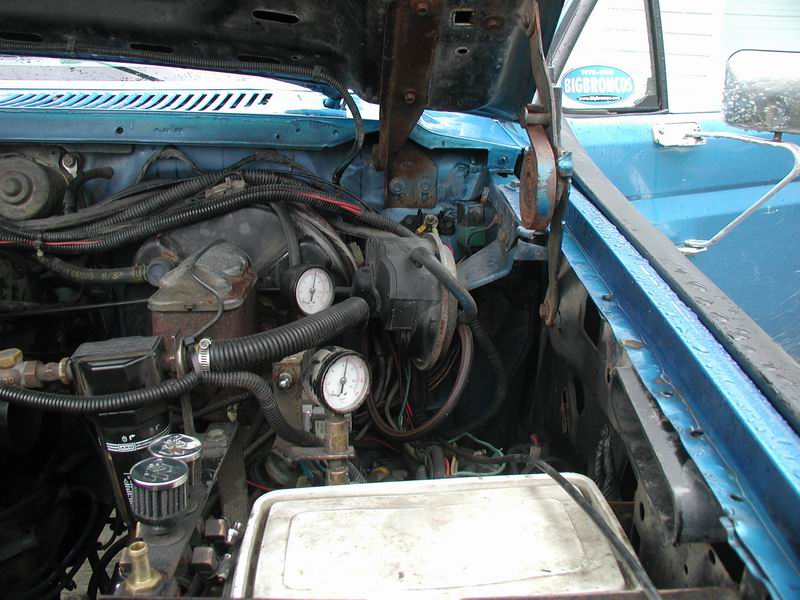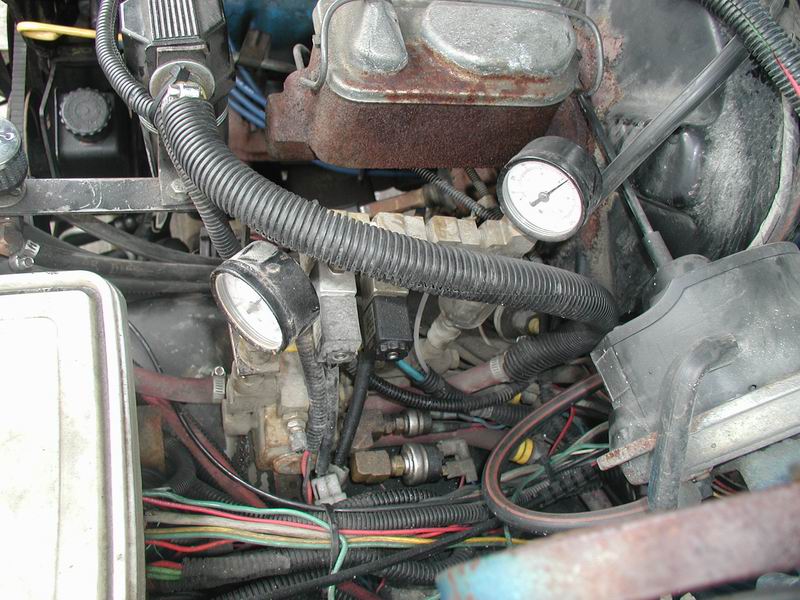 ---

System Schematic's:


Complete system.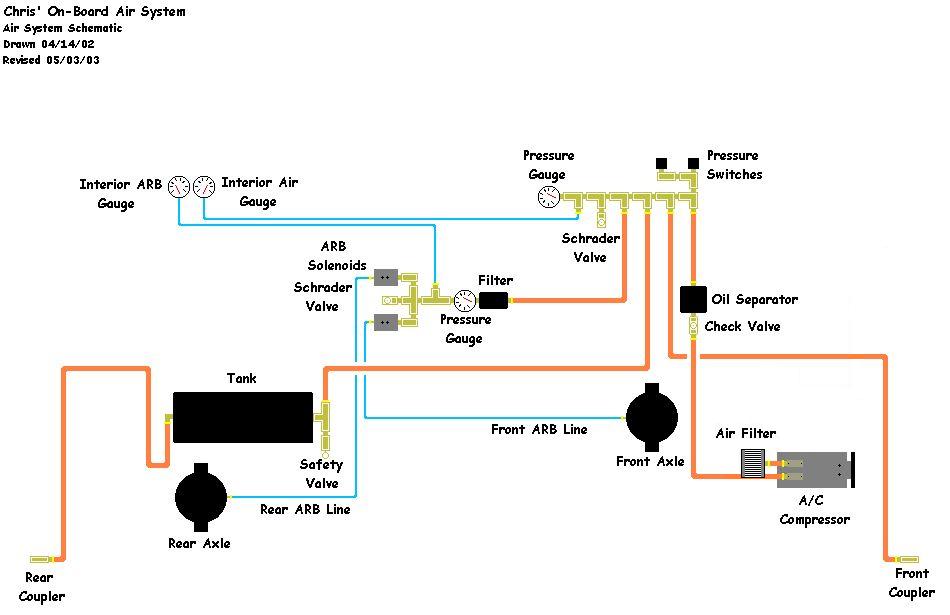 Air only.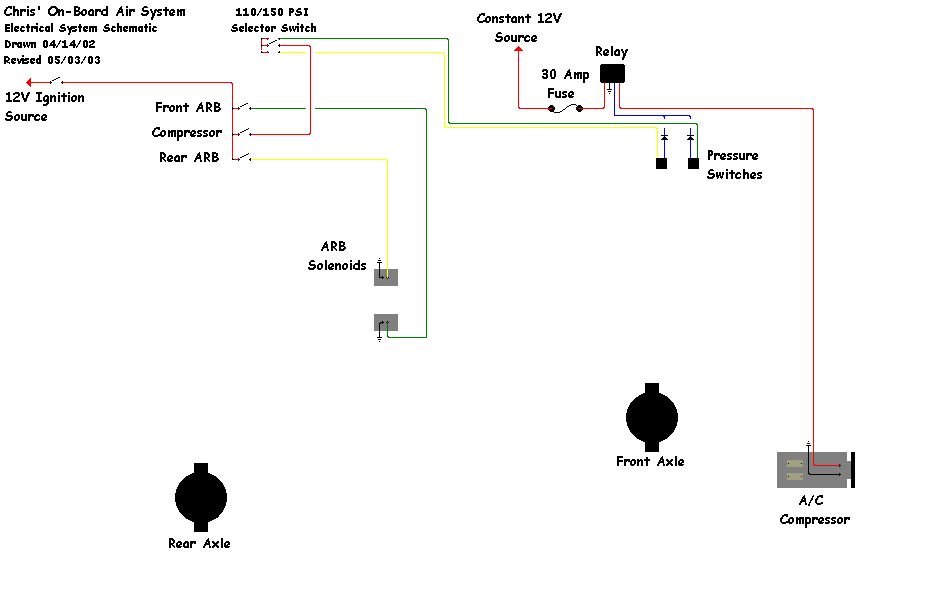 Electrical only.



---
Intake: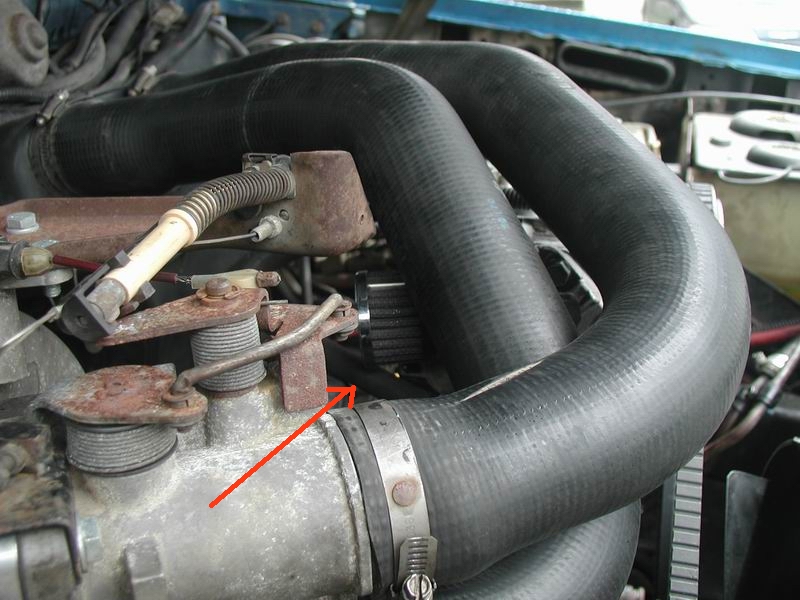 Small K&N filter clamped onto the intake tube of the compressor.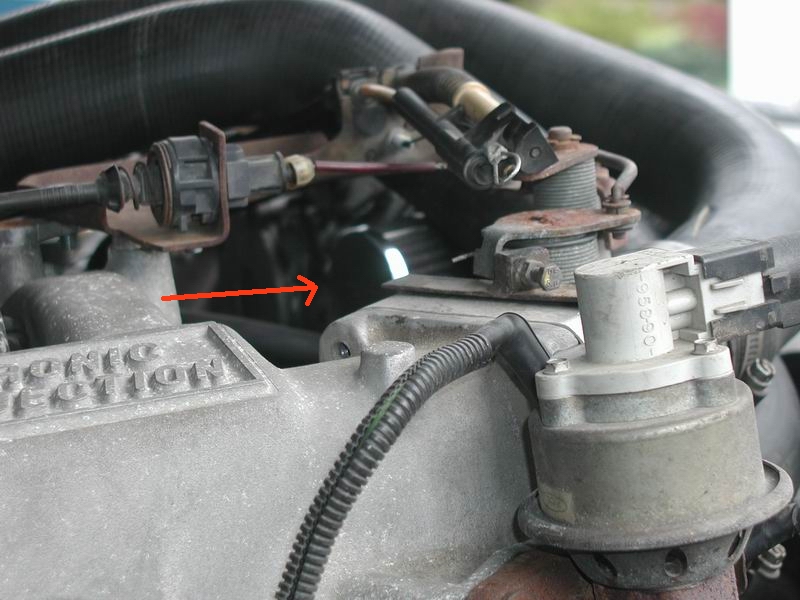 ---
Compressor: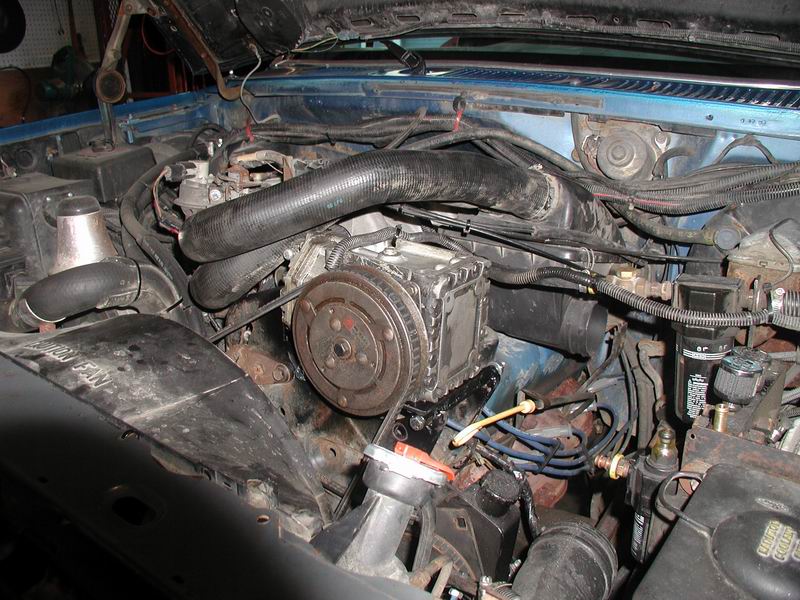 York 210r compressor.



---
Check Valve: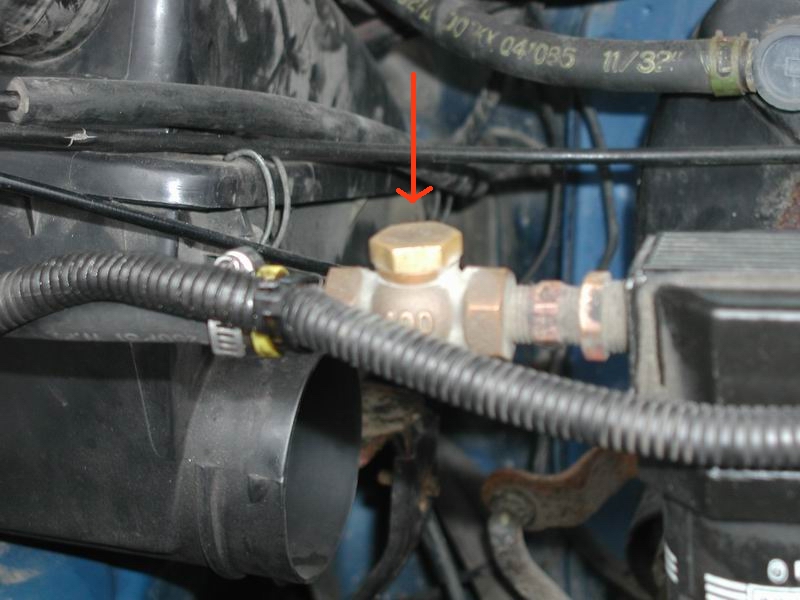 ---
Oil Separator: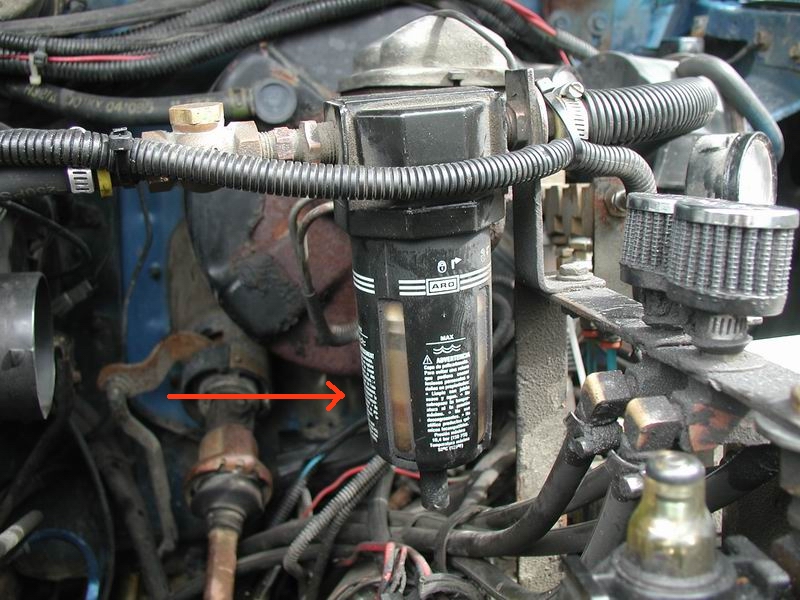 Use a separator with a glass bowl. My last one had a plastic one, and it cracked
after a few months of use. When it went, I was at a stop light, and it scared
the crap out of the guy sitting next to me.


---
Pressure Switches: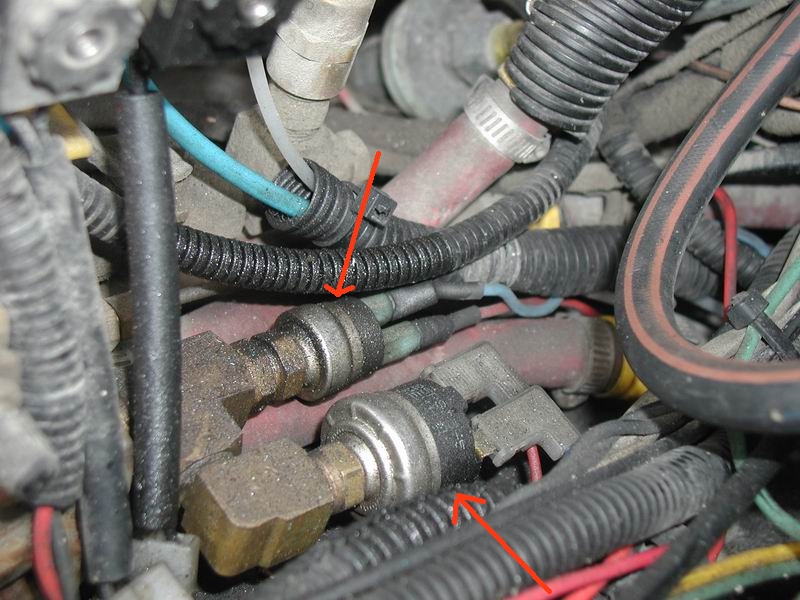 One pressure switch is 80-110 psi for the ARB's and the other is 125-150 psi for airing up the tires.



---
5 gallon air tank / blow off valve / drain solenoid: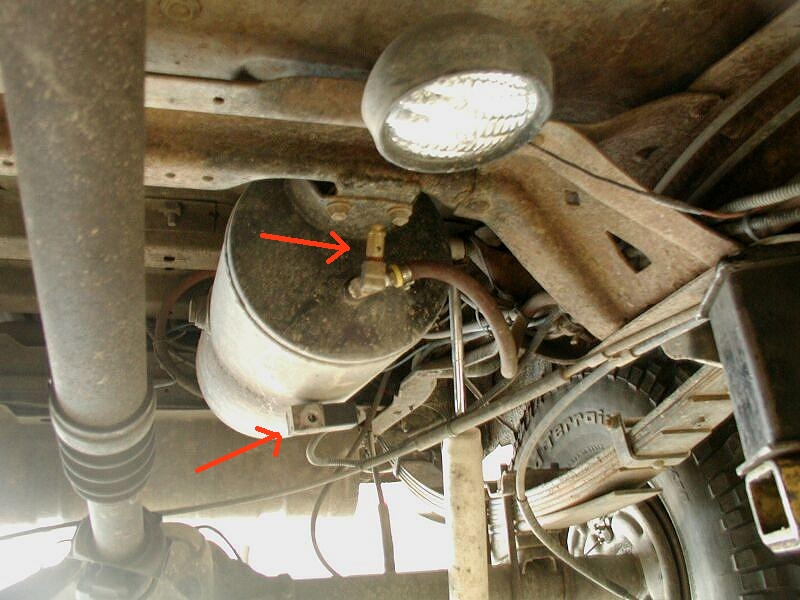 Electric drain solenoid on bottom, 152 psi blow off valve on front.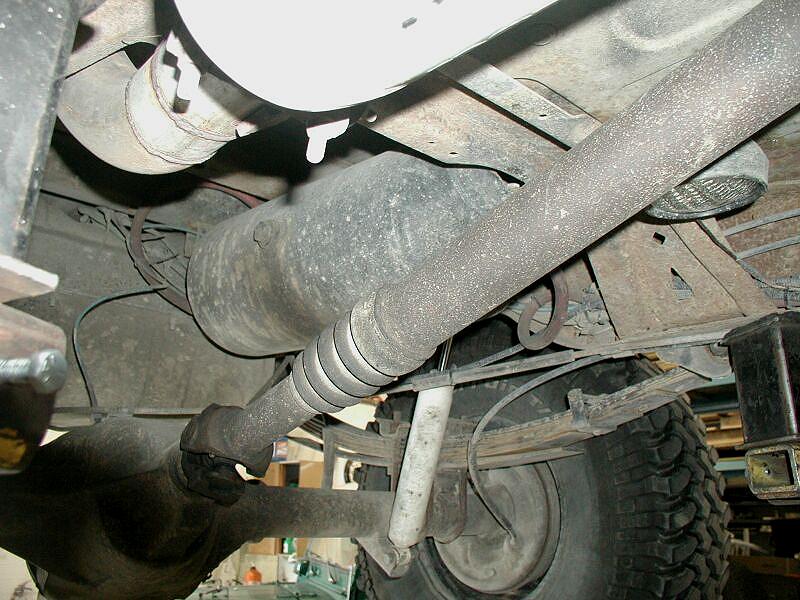 ---
Pressure Gauge's: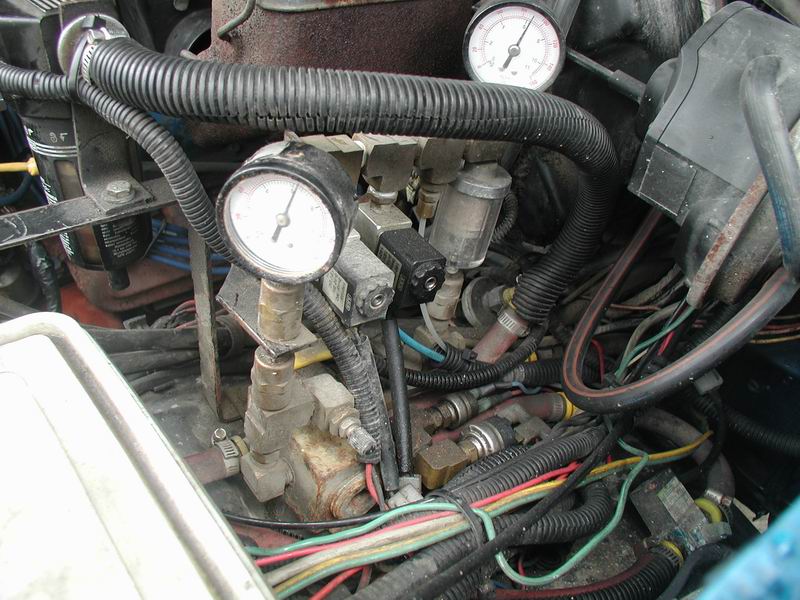 Underhood gauge's: left for OBA, right for ARB's.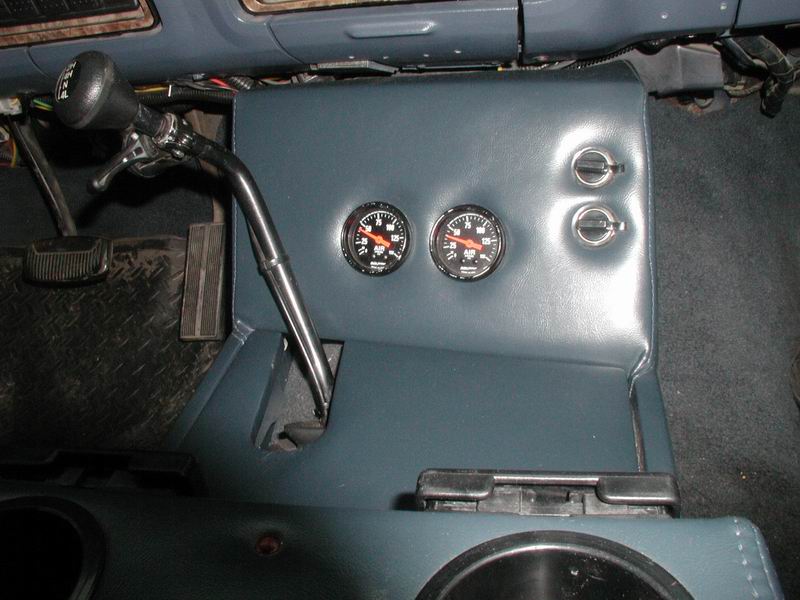 Interior gauge's: left for OBA, right for ARB's.



---
Switches: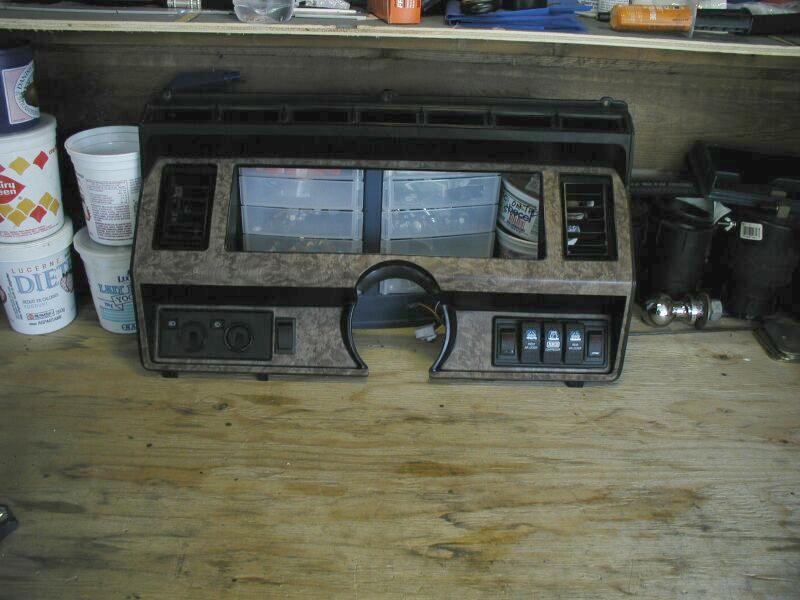 All switches neat and tidy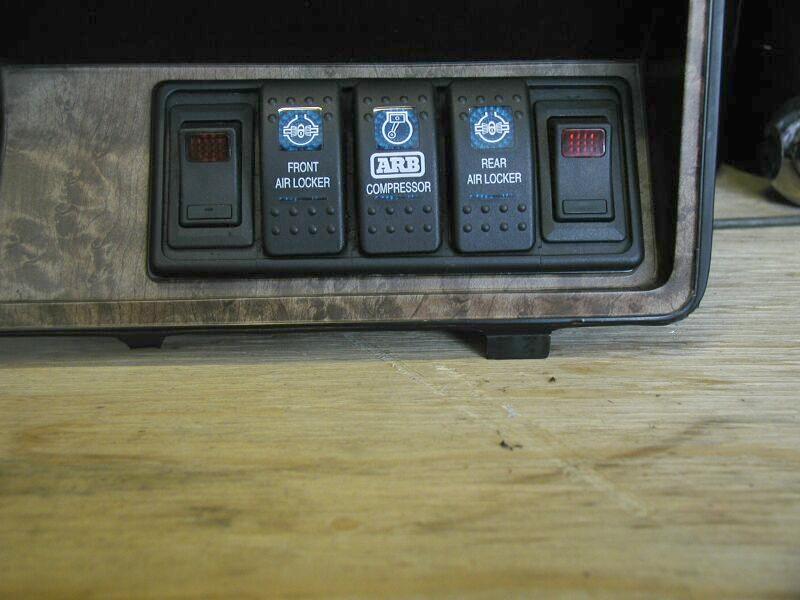 From left to right - 110 psi or 150 psi pressure switch
- front ARB on/off
- master OBA system on/off
- rear ARB on/off
- drain solenoid on/off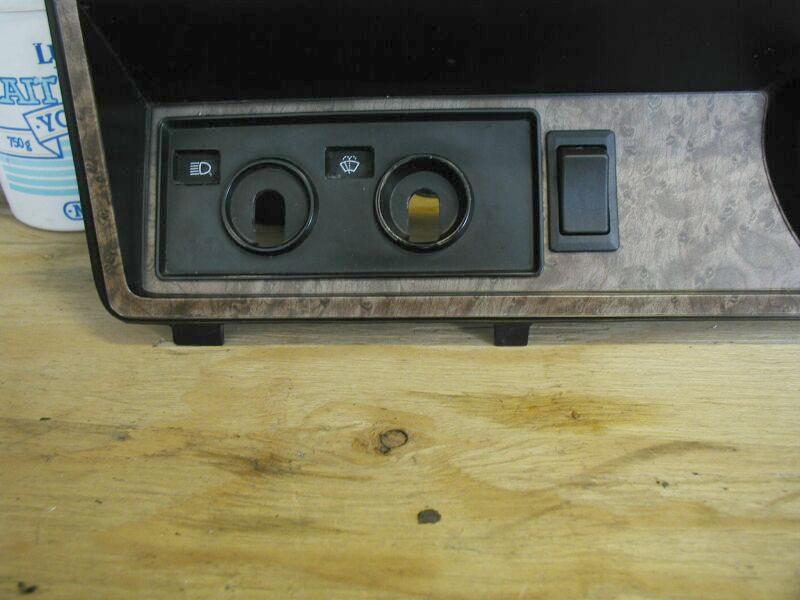 This is a momentary switch that activates
the auxillary battery solenoind in case
the main battery goes dead.



---
Front and Rear Coupler's: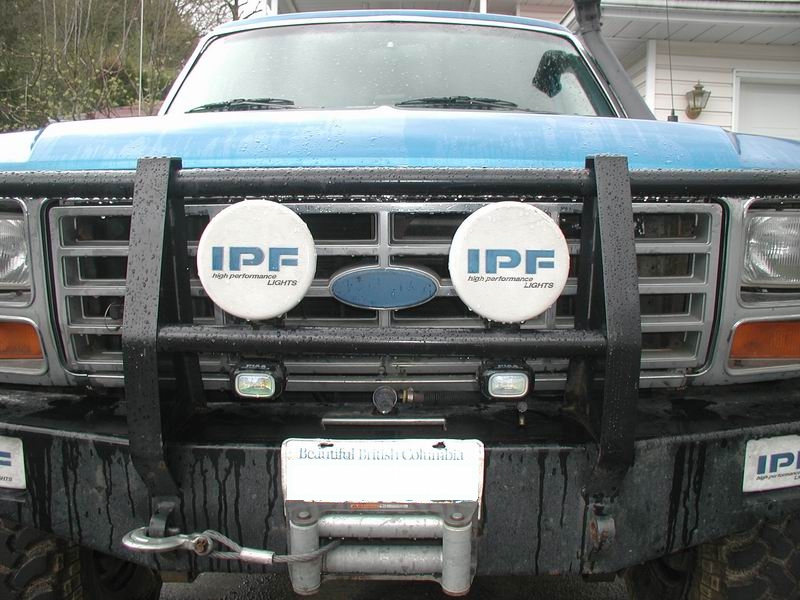 Front coupler with cover on.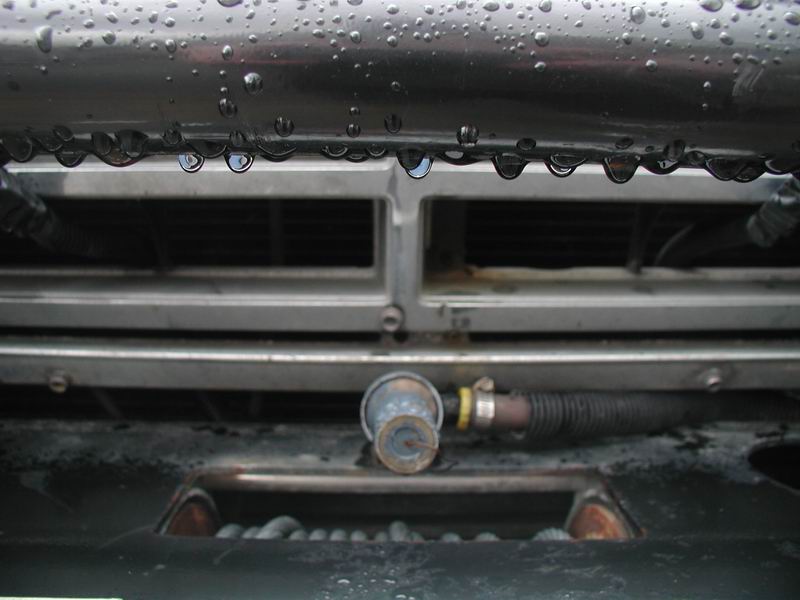 Front coupler with cover on.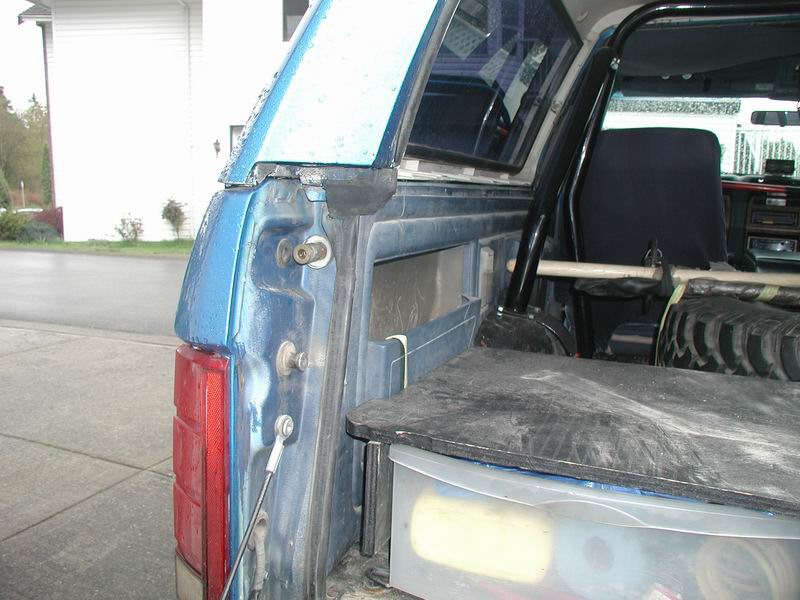 Rear coupler.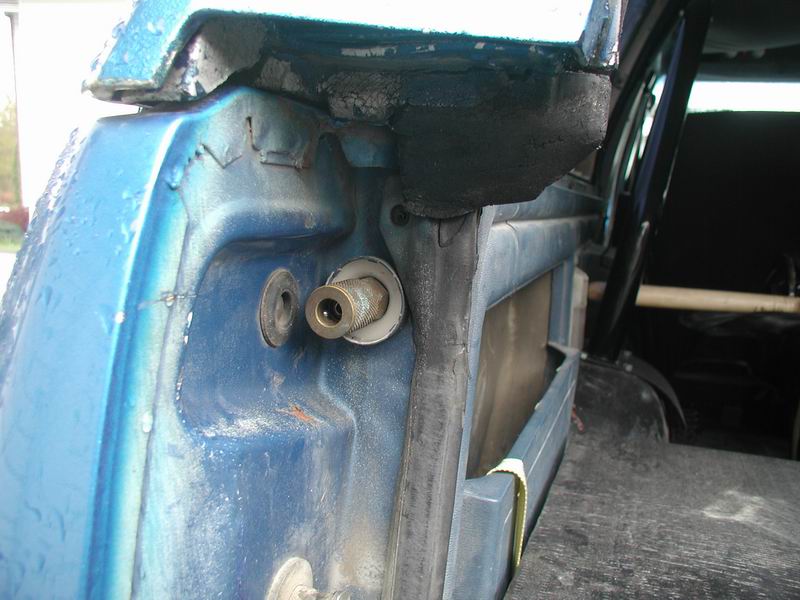 Rear coupler.



---

Here is a good page with lots of links:
Miesk5's Big Bronco Links (scroll down to OBA)

Parts Suppliers I used:
Acklands Grainger
Lordco Auto Parts
Onboard Air.com
Princess Auto
Sun Performance